Matthias Hieber becomes new Vice Director at the MFO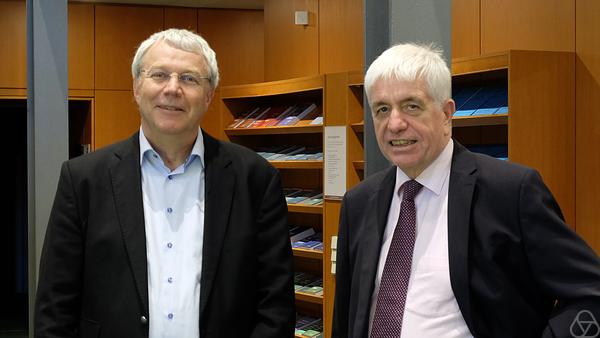 Matthias Hieber and Gerhard Huisken

We are very pleased to inform you that Prof. Dr. Matthias Hieber has been appointed the new Vice Director of the MFO. He is professor at the Department of Mathematics at the Technische Universität Darmstadt, leading the research group for Applied Analysis. Beginning from 1 April 2020 he will support our Director Prof. Dr. Gerhard Huisken (University of Tübingen) in managing the Institute.
By the statutes of the MFO both the Director and the Vice Director are professors at a German university - also during their term of office in Oberwolfach. They are appointed by the Administrative Council of the MFO upon suggestion of the Gesellschaft für Mathematische Forschung e.V.. Together, the Director and the Vice Director manage the Institute with regard to scientific and main administration.
Our current Vice Director, Prof. Dr. Dietmar Kröner from the Albert Ludwigs University of Freiburg, is going to retire. We are very grateful for his dedicated service since 2012, providing invaluable support to the MFO and the whole mathematical community.