Researchers visiting Oberwolfach highly appreciate the stimulating atmosphere and the excellent infrastructure of the Institute, which enables them to devote their full attention to mathematics. During your stay you can take advantage of the following facilities:
Library
We are pleased to offer our guests one of the best mathematical libraries worldwide. The library is located immediately opposite the guest house and can be used 24 hours a day. Writing desks and computers are distributed throughout the whole building. For retrieving literature we provide the Library Search Portal as well as further research and reference tools. If you need any help please contact our library staff during office hours. Read more about the library's services...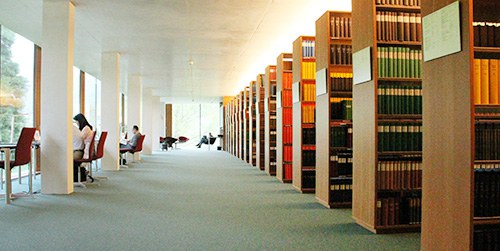 Working areas and discussion spaces
Three lecture halls are at the disposal of larger groups in our short-term programs (i.e. Workshops, Mini-Workshops, Seminars, and Arbeitsgemeinschaften).
One of the lecture halls can be divided into smaller discussion rooms. Further working and discussion spaces for smaller groups in both our short-term and long-term programs are provided. All of them are equipped with generous blackboards. 
Two working rooms are especially reserved for our guests in the Oberwolfach Research Fellows program. During summer you may also wish to work on one of our outdoor blackboards on the balconies in the guest house or in the garden behind the library building.

Mathematical Software
A variety of mathematical software is available via an application server. It can be accessed by one of our computers in the library building or by your own device via WiFi. See the complete list of our mathematical software...
Communication facilities and technical equipment
There is wireless network in the rooms and in large parts of the public areas with the exception of the large lecture hall. In addition, cable-bound ethernet can be found in the telephone booths, in some of the rooms and at many places in the conference and library building. We also provide a professional video conferencing system. Further technical equipment, like for example projection devices, can be borrowed. See the complete list of available technical equipment...
Accommodation
The guest house and the bungalows offer comfortable accommodations for up to 65 guests. Each room has its own bathroom facilities. The rooms are cleaned daily and towels can be changed on Wednesdays. Special accommodations, including kitchenettes and additional working spaces, are provided for our long-term guests in the Oberwolfach Research Fellow and Oberwolfach Leibniz Fellow programs.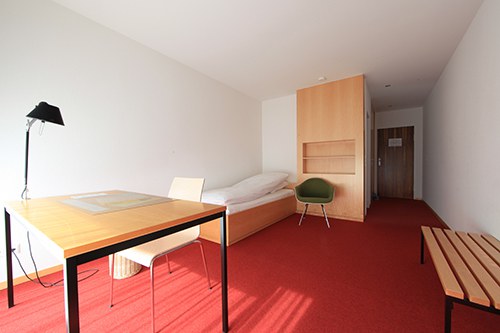 Some of our accommodations are also suitable for researchers who wish to bring their children with them. Please contact us in due time prior to your stay, in order to check the availability of these rooms. Please also contact us if we should help you to arrange child care.
Catering
Meal options
Types of nutrition are as manifold as people. Besides medical and religious specifications more and more individual preferences and personal views of life impress our nutrition attitudes.
The MFO attaches great importance to offer you a wide choice of meals during your stay. You can choose one of five meal categories for lunch and dinner. Please let us know your choice in advance. Kindly note, that this selection then applies to the entire stay. We offer a standard meal (including all kinds of vegetable and animal products) a vegetarian meal (excluding meat, fish and seafood; milk products and eggs may be included) or vegan meals (excluding all sorts of animal products). Further on, we can consider gluten- and lactose-intolerance.
We are very sorry that we are not able to realize other special wishes concerning food, or fulfill additional restrictions arising from cultural or religious rules. The lack of additional room in the dining hall does not allow us to serve a suitable equipped buffet. Many participants in the past have felt that sticking to the vegetarian or vegan option always available met their dietary restrictions.
Besides, we offer a big fruit basket on the buffet of our dining room every day. In our snack cupboard you can find a variety of sweet and salty snacks, nuts and in addition special diet products.
We kindly ask for your sympathy that additional individual requests cannot be fulfilled. If you still do not feel comfortable with one of our offered options we can recommend the restaurants Hotel Hirschen and Hotel Walkenstein nearby the institute where additional preferences might be considered.
Meal times
The meals are served in the dining hall. Breakfast is from 8:00-9:00 a.m., lunch is at 12:30 p.m., and dinner is at 6:30 p.m. There is a break for coffee and cake at each day from 2:30-4:00 p.m., except for Wednesdays when traditionally a hike takes place. Further snacks are provided in the cupboards in front of the dining hall and can be bought at the cost price. Upon your arrival on Sunday evening dinner packages will be available in the dining hall from 6:30 p.m. Please note that the last meal of each week is served on Saturday morning.
Seating order

As far as possible, the seating arrangement is randomized. Kindly note, that it may be necessary to place participants with the same meal options together, in order to ease the serving.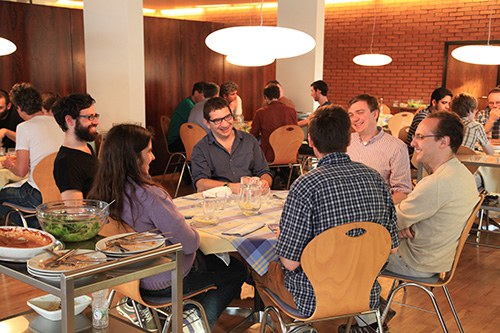 Facilities for recreation
During free time you can use a variety of recreation facilities, for example our fitness room and our music room, or simply enjoy the beautiful nature of the Black Forest in various outdoor activities. A collection of routes for running and hiking was provided to us by Prof. Dr. Ralf Hiptmair. Get an overview on our recreation facilities...