Questions to Eleonore Faber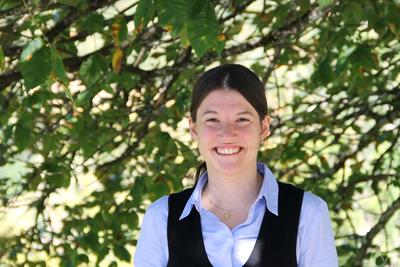 The following is an excerpt of an interview which we did with Eleonore Faber in 2016. The complete interview can be read in our annual report.
Eleonore Fabers main research interest lies in singularity theory, using methods from commutative algebra, as well as noncommutative algebraic geometry and representation theory. She graduated sub auspiciis praesidentis rei publicae in 2012 at the University of Vienna, where her thesis advisor was Herwig Hauser. Afterwards, she was an FWF Erwin-Schroedinger fellow at the University of Toronto, where her mentor was Ragnar-Olaf Buchweitz. Further important stations were a post doctoral fellowship at the Mittag-Leffler Institute (Stockholm, Sweden) for the Program Representation Theory and a research membership at the MSRI in Berkeley for the Program Commutative Algebra. At the time of the interview she was a Post Doc Assistant Professor at the University of Michigan in Ann Arbor and visited the MFO for an Oberwolfach Leibniz Fellowship.

How did you experience the application and organization process in preparation of your stay?
The application itself was rather straightforward – project proposal, cv, etc. The only "complicated" part was that I had to think of a timeline since I also wanted to invite my collaborators and visit other universities.
Can you think of any hints for other applicants?
I think one of the best parts of the Leibniz Fellow program is to invite your collaborators, and so it is a good idea to contact them as soon as possible so that there are no time conflicts.
How did you perceive the support of the MFO administration for this process?
The guidelines on the webpage were very clear, so I didn't have any additional questions and didn't need support of the MFO administration at this stage. After I got the confirmation of my stay from the MFO administration, everything went smoothly: the communication with the MFO administration was very fast and the paperwork was negligible – thanks to the great staff at the Institute!
How did you experience your stay in Oberwolfach?
It was a fantastic experience: doing math the whole day – and occasionally some hikes and playing the piano in between – and everything else was taken care of by the staff of the Institute! I enjoyed every minute of my stay and in the end even six weeks felt much too short.
What have been the main benefits for your work or the main outcomes, if it is possible to name them so far?
I invited three of my collaborators and we were able to start a new project in one case and finish one in the other case: in the first two weeks of my fellowship I invited Angélica Benito and we started to work on Hasse-Schmidt derivations in positive characteristic. We did a lot of computations – it really helped to have six blackboards to do this! Last year we spent with Ragnar Buchweitz and Colin Ingalls two weeks in the Research in Pairs program and this year we could continue our project on a McKay correspondence for reflection groups – and the proof kept getting shorter and shorter during the second stay. The work atmosphere in Oberwolfach is so calm and one can really concentrate on the mathematical problems. Another great aspect of the Leibniz Fellowship is that I could travel to other Universities to visit other colleagues, namely to Kaiserslautern and Münster, where I could also give a seminar talk.
How did you perceive the impact of your stays in Oberwolfach on your personal career?
So far I have participated in Oberwolfach Workshops as well as in the RiP program and the Leibniz Fellowship. Of course, the Workshops are the best opportunity for learning new things and meeting new people and also disseminating one's results, but I think that more important for me were the longer research stays: we could really focus on doing mathematics under the best possible circum-stances. The time during the fellowship when I was alone here I mostly spent writing up results and reading in the library.
It is a common phenomenon that the percentage of women in mathematics is rather small. How would you describe the situation in your field of research?
Although there are still not very many women in my area, I think that as well in commutative algebra as in representation theory there is a growing number of female researchers. We even had a workshop with 42 only women participants in Banff earlier this year – this was an interesting experience since the atmosphere was quite different from usual conferences.
What are major reasons for the small percentage of women in mathematics, according to your opinion?
This is a good question and I wish I had a good answer for it: from my own experience I could see that from the beginning of my studies until now the number of my female colleagues has been steadily decreasing. I think one reason is the relative job insecurity, which makes it in particular hard to start a family. Also I encountered some women with self doubts – most of the time not really justified – and the often precarious job situation for young mathematicians at Universities certainly doesn't encourage already doubting women to continue on this path.
From your point of view, what would be appropriate measures to improve the situation?
I guess that it will take some more time to change this. I think that special programs or workshops for women certainly help to increase the number of female researchers. In particular, I think that events for school children – like the IMAGINARY exhibition – help to make people aware of science at a young age and get them interested and thus can help that more girls study mathematics.
What could Oberwolfach contribute to improve the situation for female junior researchers or for female researchers in general?
I think Oberwolfach should encourage organizers to invite more women for the Workshops – or even try to organize a women only Workshop or Seminar. Also, during my stay here I saw that some mathematicians came with their whole families. I think one could advertise more the fact that it is possible to bring your children and even arrange daycare at the Institute. This might encourage more women with families to participate in the workshops.