Oberwolfach Research Fellows
UPDATE DUE TO CURRENT CIRCUMSTANCES: The MFO will be as flexible as possible in assisting Ukrainian mathematicians in the context of this program, in particular with regard to the duration of the stay. Further offers of assistance to mathematicians who are refugees of the recent war are listed on a webpage of ERCOM: https://ercom.org/help-for-refugees.html.
The focus of the Oberwolfach Research Fellows (OWRF) program is to bring together small groups of researchers to carry out joint research in the stimulating atmosphere of the Oberwolfach Institute.
Projects from all areas of mathematics can be supported by these programs, in particular, interdisciplinary research (inner- or trans-mathematical) and cooperation is encouraged. In case of trans-mathematical interdisciplinary research, the mathematical part has to play a prominent role, using advanced methods and connected with essential problems in mathematical research.
The MFO will provide office space and accommodation (full board and lodging) in our newly renovated double-room appartments. The programs offer undisturbed working conditions with an excellent infrastructure embedded in an international research environment.
In view of our EDI policy the MFO wishes to increase in particular the number of female participants. Female mathematicians are strongly encouraged to apply. Concerning possible support of young families, please check our corresponding website. Travel expenses can be reimbursed only in exceptional cases.
It is also possible for junior researchers to apply additionally for a Leibniz Fellowship – see the OWLF website for specific information and conditions.
Who can apply as OWRF for what kind of research stay?
Groups of 2-4 junior or senior researchers.
In case of OWLF (Leibniz Fellowship), also single junior researchers.
The research group should have geographical diversity (not all researchers should come from the same place).
The possible length of the common research stay is 1 – 4 weeks; for a Leibniz Fellowship 4 – 12 weeks. In order to offer a perspective for Ukrainian scientists the MFO will offer flexible solutions to prolongate the stay.
Arrival should be on Sunday afternoon or Monday, and departure on Friday or Saturday morning.
Please note that the main intention for one-week research stays should be stays in the week prior to or after an accepted invitation to an Oberwolfach meeting, i.e. a workshop, half size workshop, mini-workshop, Arbeitsgemeinschaft or seminar. Here, accepted invitations should exist for the majority of members of the research group. In particular, an OWRF research stay of one week cannot replace an invitation to a workshop.
Hybrid or tandem component in OWRF
In view of the good audio-video facilities at the MFO, there is a new option to apply for an OWRF research stay which includes a hybrid cooperation with a parallel research group at another place in the world. This can be a university or another research institute with a substantial distance to the MFO, usually outside Europe. It is up to the applicants to arrange such a cooperation with the other university or institute and to submit an additional application there if necessary.
Hybrid tandem activities create synergies among two remote research groups and help to reduce the amount of travel and CO2 emmission.
Additional comments for such proposals:
The proposal should clearly state the amount of interaction and cooperation and address the realization of the hybrid cooperation, in particular in case of different time zones, e.g. by planning to record talks. See also our best practices for hybrid workshops.
The group size at the MFO and at the other place should be similar, i.e. 2 - 4 researchers at each place.
In view of possible restricted capacity at two places, at least 5 different suggestions for possible dates should be given in the proposal. Please note that it is more probable to realize research stays in the period fall - spring than in the summer period.
It is advisable that proposals for hybrid tandem research stay are submitted 9-12 months prior to the hybrid tandem OWRF research stay in order to give enough time for evaluation and decision and to increase the chances to find suitable capacities at both places.
Application, evaluation, decision and scheduling
Applications can be made any time, preferably around six months before the planned stay. Due to many applications for the months May - September we recommend to consider also other periods for your stay, if possible.
The research project will be primarily evaluated according to the scientific quality and excellence. EDI criteria will also be taken into account.
Decision making with the Oberwolfach Scientific Committee takes usually about 6 - 8 weeks. Please note that in case of a positive decision the dates for the OWRF stay have to be fixed together with the Oberwolfach administration according to the free capacity available. The OWRF or OWLF stay should be realized within one year after the decision on the proposal. In case of force majeure (e.g. travel problems because of the pandemic) this deadline can be extended to two years. Afterwards the approval expires and the research stay has to be re-applied for.
Please note that research groups who have already participated in the OWRF/RiP programme should plan a new application with enough time distance to the past OWRF/RiP research stay. Because of the high demand, a minimal distance of 1-2 years is recommended. Moreover, it is not the intention of the program to support frequent research stays on the same or similar research topics at regular intervals.
Format of an OWRF application
Applicants should submit (in English)
OWRF project form* (including project title, MSC and proposed dates)
a short description of the joint research project (1-5 pages)
OWRF applicant form* for each member of the research group
curriculum vitae including a list of (most important) publications (1-5 pages) for each member of the research group
as pdf-documents by e-mail to the Vice Director of the Institute, preferably by e-mail to owrf@mfo.de.
In case of application for Leibniz Fellowships, see our OWLF website.
Publication of results
After the OWRF research stay every group is expected to provide a short report of 1-2 pages (as a record for our funding agencies and suitable for publication, e.g. on the MFO website). The Scientific Committee will evaluate new proposals for an OWRF in the light of reports from previous OWRF stays
The MFO publishes the series Oberwolfach Preprints (OWP), which mainly contains research results related to a longer stay in Oberwolfach. In particular, this concerns the programs OWRF and OWLF and every research group is invited to pre-publish their results of the research stay here. This does not affect a parallel (pre-)publication, e.g. on the researcher's personal website, in arXiv or in a journal.
History and acknowledgement
The OWRF program evolved in 2020-21 as a flexibilisation from the former Research in Pairs (RiP) program. Here you can find lists of researchers who were supported in RiP or OWRF.
We are grateful to the VolkswagenStiftung which supported the former RiP program from 1995 to 2000. Since 2001, the program has been financed within the regular budget of the MFO.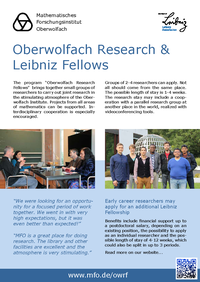 * IMPORTANT: Please do not use "Apple Preview" to fill the Application Form. It will corrupt the pdf file, even if it looks correct in "Apple Preview". We recommend using Acrobat Reader instead.